Author:
September 21, 2023

Beauty & Health Editor
By Jamie Schneider
Beauty & Health Editor
Jamie Schneider is the Beauty Editor at mindbodygreen. She has a B.A. in Organizational Studies and English from the University of Michigan, and her work has appeared in Coveteur, The Chill Times, and Wyld Skincare.
Image by Arsema Thomas / mbg Creative
September 21, 2023
We carefully vet all products and services featured on mindbodygreen using our commerce guidelines. Our selections are never influenced by the commissions earned from our links.
Beauty routines are never truly stagnant—practices evolve and change like we do. In As of Late, we chat with influential folks about their current products and rituals. Here, we get a snapshot of what they're doing right now: the sacrosanct formulas they use until the last drop, the fresh launches they've got their eyes on, and of course, the why behind it all. 
The beauty industry is a work in progress—progress toward the greater good, we hope, but we do have a ways to go, especially when it comes to our environmental impact. And, look, it's not fair or productive to put all the onus on the consumer (as lasting change will likely stem from industrywide shifts), but you shouldn't underestimate the power of your dollar. 
Arsema Thomas certainly knows the significance of mindful spending. "It's very evident in my beauty regimen that the kind of products I like to put my money toward have to have good underlying values," the actor (who speaks five languages and has a master's in public health policy from Yale—casual!) tells me over Zoom. 
Her commitment to conscious beauty makes her the perfect partner for the Tom's of Maine Incubator, a program that awards five entrepreneur applicants $20,000 to materialize their community-driven vision and drive environmental solutions. In addition to funding, winners will receive mentorship from climate movement leaders, guidance and support from Tom's of Maine, and collaboration opportunities with fellow Incubator members, all from underrepresented, underserved communities. (Apply here before October 15!) 
"My sister is really big in the environmental justice space, and she constantly reminds me of the difference between a greenwashing company and an actually sustainable company," Thomas adds.
This thoughtful approach to beauty is evident in her As of Late selections below. Each choice conveys intention, respect, and cultural significance—we could all learn to take care like Thomas. 
The tried-and-true: A cold water rinse
"I think it would have to be the process of washing your face with hot water, and then doing a very cold water rinse right after to seal everything in. It just feels like it's working—it's magic. 
"There was a guy in university [who I met]. I was like, 'How is your skin that good?' And he's like, 'I just rinse with cold water after I wash with a bar of soap.' The second part pissed me off, but the first part is genius." 
The surprise hit: A natural toothpaste

"I have always been a standard [traditional] toothpaste user. It was only recently that my sister told me I should start using more organic toothpaste, so I started to use Tom's of Maine.
"I love their toothpaste. I'm usually very nitpicky—I don't like going to the dentist because of the type of toothpaste they have. It doesn't feel like it's stinging your mouth like many razor blades, and it feels good for the body and your teeth most importantly."
Tom's of Maine Luminous White Anti-Cavity Toothpaste
$ 8
Whiter teeth without the sensitivity. With gentle surfactants and mineral-derived ingredients, the paste buffs away surface stains and leaves your pearly white practically shining.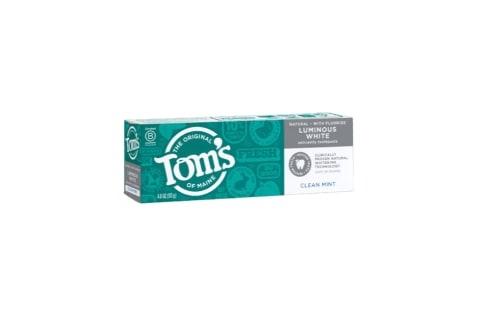 The secret: A brow tint hack

"I always color in my eyebrows with mascara that's running low. I don't throw it away if it's not enough for my eyelashes—it always has a second life as an eyebrow situation. 
"The mascara I usually use is [by] Rare Beauty. It comes in such a small case, so I can bring it with me everywhere. 
"I learned this from watching my mother use mascara to color in her gray edges at her temples, so it just naturally became a thing in our household."
Rare Beauty Perfect Strokes Universal Volumizing Mascara
$ 20
I'm officially stealing this hack from Thomas. The not too wet, not too dry formula creates a natural lash look that totally translates to full, fluffy brows. The formula also contains castor oil, which has been anecdotally lauded for hair growth—for both your brows and lashes.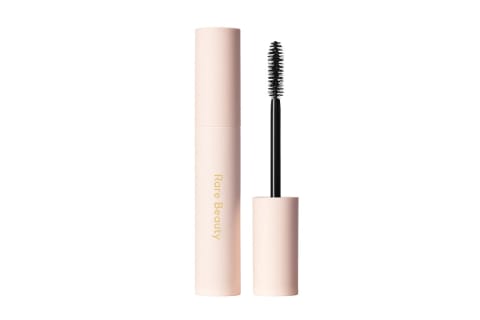 The up-and-coming: A shift in personal grooming choices
"I honestly think the newest thing I've been trying, which is definitely not part of the zeitgeist but will become something popular, is not shaving my armpits. I think it is such a retro move and a physical way of reclaiming the body. 
"It's quite a vulnerable space, but there's something about women not shaving that feels very revolutionary, and it's going to change the beauty and wellness space in a really different way. So I'm praying that it will come back.
"I made [the decision] actually during COVID, but then I did a lot of reading about the racism that is ingrained in shaving the body. It's this whole idea of entrenching in the gender binary by creating as much difference between men and women, but it was also weaponized against Black people during the earlier parts of America's history.
"Black women weren't allowed to wear skirts or shave themselves, but white women were emphatically encouraged to do so. That was also to create a difference between the races, to show that one is more civilized over the other. 
"The moment I realized that, I was like, 'Oh, so much of the world and what we've been told is good for us is so societally constructed.' So it feels like the most natural thing to do is to become as natural with my body as possible." 
The indulgence: Treasured hair oils
"Probably my hair oils—anything for hair. I'm looking around my apartment right now, [and I have] like 18 little tincture bottles of different oils that I just massage into my scalp.
"I love them, and they're all kind of expensive, but head and scalp care is really important to me. A lot of them are just made by small businesses, like women at flea markets and places like that. They have no labeling on them, and you can see all of the black castor or chebe powder that they've used to make them. 
"There's something about knowing it's just been made, rather than been through this massive processing machine, that makes it feel [good]. It's that natural kind of sentiment that feels more organic and therefore more impactful and effective." 
The score: Marketplace finds
"I feel like the best places to get a lot of the greatest things for your skin, face, body, and mind tend to be at marketplaces.
"Usually, you're paying what is deserved of that person's work and effort into the product. You're also meeting the person that made your thing. It goes against the whole capitalist structure, and you'll always find something or something close to what you want.
"I mean, I love a good Duane Reade. It always does the job, but I think there's something special about going to markets that creates and fosters a community environment that I'm really obsessed with at the moment." 
What my mom taught me: Invest in body butters

"The whole practice of putting lotion on [is] meditative. It's almost like giving back to your body—you never self-massage unless you're already in pain. 
"I think that also comes with being Black, and the idea of what lotion and moisturizer means for our bodies and how we're perceived. So there's something I love about investing in really, really good coconut butters or body butters for making yourself look glossy. My mother always told me, 'Elbows and knees are the places to be.' 
"[From] being on the move and going to hotels, you can tell the difference between something you've bought, cherished, and loved versus what is given freely. I try to get as organic of a whipped shea butter as I can get. hanahana beauty does a really good whipped coconut butter. There are really great companies, especially in the Black business space, that are coming up with good body butters." 
hanahana beauty Bamboo Coconut Body Butter
$ 30
hanahana beauty truly makes some of the best shea butters on the market. This rich number also includes cocoa butter, mango butter, plus a cocktail of nourishing oils to make your skin feel like silk. One dollop, and you'll be hooked—promise.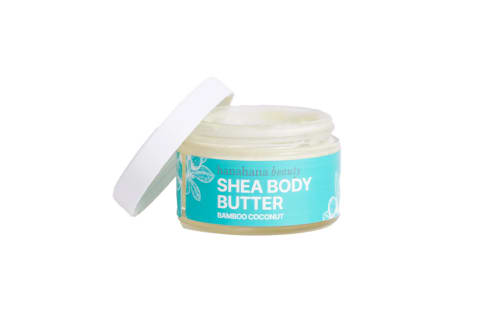 The carry-on: Multiple deodorant sticks

"I'm the type of person who always travels around with multiple deodorants. Maybe it's a self-conscious thing—I don't want to smell, and I sweat a lot—but I always carry small amounts of deodorant.
"I've become a massive fan of the Tom's Of Maine deodorants. That's actually the first way I got into Tom's Of Maine. Now, I bring so many back to the U.K., and that's the one thing everyone always asks for whenever I'm out: Does anybody have deodorant? I'm like, 'Yes, I actually do.' I've become the Mary Poppins of my friend group with this bottomless bag of stuff."
Tom's of Maine Long Lasting Deodorant
$ 6
An aluminum-free deodorant that actually makes you smell fresh? Sign me up. With vitamin E, aloe, and glycerin, the stick will glide across your skin with ease and leave behind a pleasant, earthy scent—and not a pesky clothing stain in sight.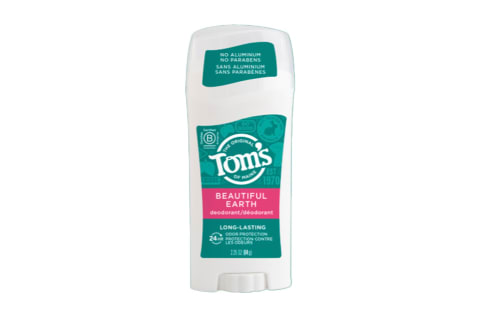 .